Regal Reunion: Festival Queens take the stage at Aliwan Fiesta Press Conference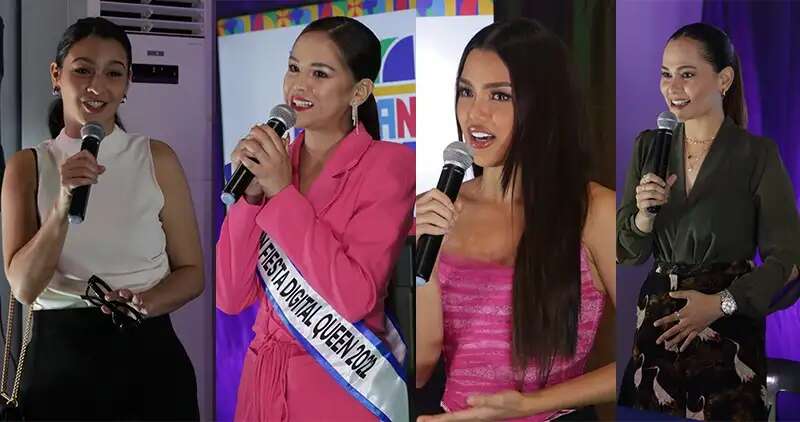 The anticipation and excitement surrounding Aliwan Fiesta's much awaited comeback this year reached new heights at the press conference. However, it wasn't just the thrilling news that made the event memorable; it was the presence of former festival queens that truly added an extra touch of beauty to the proceedings.
Each former festival queen possessed a unique story to tell — a tale of perseverance, dedication, and the pursuit of excellence. They had represented their respective hometowns with utmost pride, showcasing not only their personal charm but also the rich cultural heritage that defines their communities.
Gratitude filled reigning Aliwan Fiesta Digital Queen Marikit Manaois' heart as she took a moment to acknowledge the individuals who orchestrated Aliwan Fiesta. To her, this annual celebration was more than just a gathering — it was a profound representation of a "melting pot of culture, art, and beauty." She recognized the importance of the platform she stood upon, one that had bestowed upon her immense joy and countless opportunities. Beyond the glitz and glamour of her title, Marikit embraced her role as a voice for change. With unwavering passion, she dedicated herself to raising awareness about the urgent need for zero-waste management.
Emerging from her praiseworthy journey through Miss Universe Philippines, 2020 Aliwan Fiesta Digital Queen Jannarie Zarzoso set foot at the Manila Broadcasting Company premises for the first time. Overwhelmed with emotion, she embarked on a poignant reflection, reminiscing about the significance of her tenure as the inaugural Aliwan Fiesta Digital Queen and its pivotal role in propelling her toward the national stage.
Meanwhile, Reyna ng Aliwan 2017 Marla Alforque's heartfelt words echoed through the hall as she expressed her deep appreciation to everyone who had supported her during her reign. She emphasized that the journey of a Reyna ng Aliwan encompasses far more than just physical beauty and fitness. With grace and eloquence, she emphasized that Reyna ng Aliwan is a representative not only of herself but also of her province and its rich tapestry of cultures and traditions.
Miss Earth 2014 Jamie Herrell was also brimming with excitement as she shared her heartfelt connection to the Reyna ng Aliwan title, recognizing it as the root of her remarkable pageant journey. Her experience had taken her from the local festival stages to the international pageant spotlight, and she attributed much of her success to the invaluable experiences and lessons she gained through Aliwan Fiesta.
Undoubtedly, the journeys of these Festival Queens offer us an array of valuable lessons that extend far beyond their prestigious titles and crowns. Each year, as we witness the crowning of these extraordinary young Filipina, we are reminded of the power of determination, resilience, and unwavering commitment.
The anticipation builds with each passing day, as we eagerly await the introduction of the next set of ladies who will don the mantle of their hometown's festival. Hailing from diverse backgrounds and with a myriad of talents, these young women will come together to showcase the vibrant spirit and unique cultural heritage of their respective communities.