From AFDQ 2020 Finalist to Binibining Pilipinas 1st Runner-Up: Katrina Anne Johnson's Empowering Glow-Up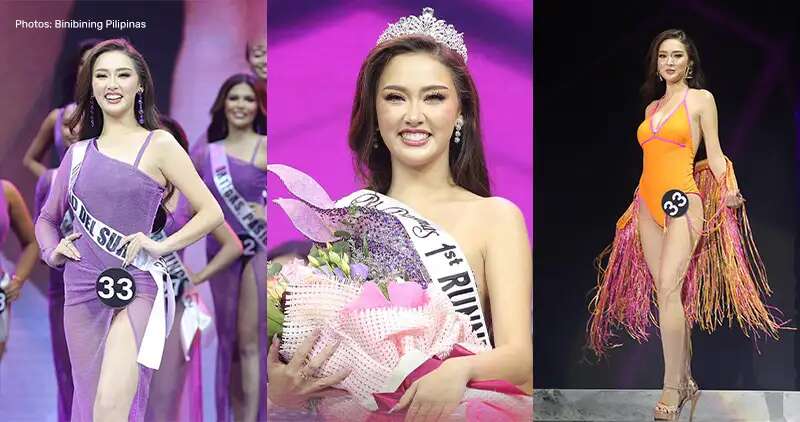 In the wake of Jannarie Zarzoso's impressive Top 18 finish at Miss Universe Philippines 2023, Aliwan Fiesta once again revels in triumph as another Aliwan Fiesta Digital Queen 2020 alumna emerges as the first runner-up at the recently concluded Binibining Pilipinas 2023.
Representing Davao del Sur, Katrina Anne Johnson is a licensed pharmacist and certified clinical pharmacist. The 25-year-old captivated hearts and left jaws agape with her undeniable presence. Her stunning appearance in the vibrant orange one-piece swimsuit showcased her confidence and curves, while her enchanting lavender "Metamorphosis" gown left everyone in awe.
Yet, it was her remarkable eloquence and profound intellect that truly set her apart during the question-and-answer segment, capturing the admiration of both judges and audience alike. Renowned Filipino actor Piolo Pascual posed a thought-provoking question to her, "What are you most unapologetic for when it comes to your personal values?" Without hesitation, she responded, "What I am most unapologetic for is my authenticity, my honesty, my sincerity. My parents really instilled those values to me at a young age, showing me that you can accomplish anything in the world that you put your mind to, as long as you're loyal to who you are and who you are in your heart. And I really hope that I'm able to inspire other people standing on this stage showing you that even if you may not fit the societal norm, if you are who you are, then you are able to show that to the world."
As the spotlight fades on Binibining Pilipinas 2023, it becomes evident that this is just the beginning of Johnson's exceptional journey The same can be said to her fellow Aliwan Fiesta Digital Queen 2020 finalist and first runner-up, Jasmine Omay and Reyna ng Aliwan Fiesta 2018 Chelsea Fernandez who ended up as Top 12 finisher and Binibining Pilipinas-Globe 2022, respectively. Their triumphs on the pageant stage are mere steppingstones to a future that holds immense promise and boundless opportunities.
She has not only brought pride to her hometown but has become a beacon of hope and inspiration for countless individuals. As she embraces the next chapter of her life, her unwavering light will continue to shine, igniting the flames of courage and self-acceptance in the hearts of those who dare to dream.